Frank House Lead vocals
Frank was born and raised in the San Francisco bay area and sowed his musical oats on regional talent and music of the 50's thru present. He later joined local musicians to perform as drummer/vocalist for bands Rival, Kaos, Temporary Insanity, War Cry, and Badd Influence. He attended the Ford School of Voice in San Francisco to hone his talents and went on to front bands Final Warning and Stain, performing and touring regional and West Coast venues.

Ready for a change, he picked up the acoustic guitar and embarked on a solo singer/songwriter career in the Sacramento area, performing at local venues and private functions. His works can be found on his two solo albums; "My Echoes" and "Humm 110".

In the fall of 2008, through a regional karaoke final, Frank was offered the opportunity to form a Journey tribute act which opened the door to the birth of his first Journey Tribute.

Frank currently offers voice, stage performance, beginning drum and guitar lessons and can occasionally be found performing acoustically at local music venues. He also records and produces music and voice-over spots in his home studio while offering his vocal talents for studio session work.

---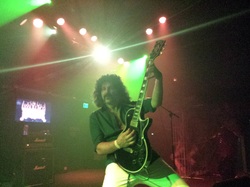 Val Popovic Guitar, Vocals
Val was born in Chicago, Illinois in 1965. Val started in music at a young age leaning to play the Tamburiza, a traditional Yugoslavian instrument, at age 8. Val's older brother introduced him to bands like KISS, Led Zeppelin, Ted Nugent, Journey and Foghat. Inspired by what he heard, Val begged his parents for a guitar and began taking guitar lessons. Thirty years later Val is an accomplished musician. He played guitar for several original bands, opening for national acts such as Great White, Warrant, UFO, Y&T, Quiet Riot, The Bullet Boys and many others.

Val has also found a niche in the tribute scene. Portraying the Space Ace character in the KISS tribute scene, Val was featured in "Tribute the movie" a "Rockumentary" directed by Rich Fox and Kris Curry of MTV Real World Fame. The executive producer was academy award winning director Steven Soderbergh ( Erin Brokovich, Traffic, Ocean's Eleven and many others ). Val has traveled the United States, Canada and Mexico to perform in both tribute acts Original KISS Army and Journey Revisited.

---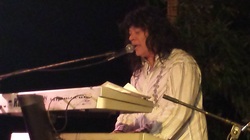 Kevin Jachetta Keyboard, Keytar, Vocals
Kevin was born in San Francisco and began singing and playing piano by ear by the age of 5. By the time he was 8 he had already been playing and singing live around the bay area with his brothers in Household Products. The group recorded a demo at an early Fantasy Recording in San Francisco, followed by a 45 single when Kevin was 10 years old.

The subsequent decades have found Kevin on many recordings and live stages with many bands across the US and abroad. These include Trilogy, Jimmy Lyon Band, Steve Stone, Doc Lawrence, Crazy Ivan, Joni Morris and the After Midnight Band, Rock of Ages, ESP Band, etc.

Most notably he has shared the stage with members of Tina Turner, Joe Cocker, Eddie Money, Peter Frampton, Y&T, as well as opening for Elton John, Rod Stewart, Page & Plant, Sheryl Crow, The Black Crowes, America, Greg Kihn, Dream Theatre, Extreme, and the list goes on.
---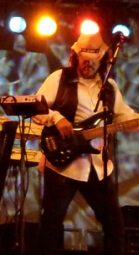 Dave Sousa Bass, Vocals
Dave Sousa is a true veteran of the San Francisco Bay Area music scene and has performed, toured, and recorded with many well known acts, including Ronnie Montrose, Gamma (featuring Ronnie Montrose and Davey Pattison), Robert Berry, Steve Vai, Robin Trower, Rick Derringer, Pat Travers, Lou Graham, Eddie Money, the Doobie Brothers, John Hiatt, Peter Frampton, Joe Walsh, Tom Cochran, and many others

---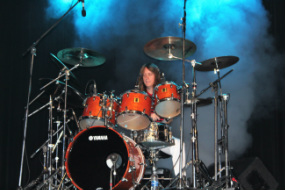 David Hawkes Drums
Dave has been performing professionally in Central California and the San Francisco/Bay Area since 1983. In addition to attending the Berklee School of Music in Boston, Dave is a graduate of California State University Stanislaus. He has studied with notable drummers David Garibaldi and Dave Weckl.

Some of the artists Dave has performed and/or recorded with include Cornelius Bumpus (Doobie Brothers, Steely Dan), Mic Gillette (Tower of Power), Marc Russo (Yellowjackets), Bobby McFerrin, Lincoln Brewster, Pete Escovedo, Clark Terry, James Moody, The Ink Spots, Clare Fischer, Carl Anderson, Bill Watrous, Chris Cain, and show business legends Bob Newhart, Carol Channing, Joan Rivers and Don Rickles.
---